The difference is in the details. Using perfected processes, patented technology, and the best sourced materials, every piece of Flexsteel furniture is hand-crafted because they believe that lasting beauty and comfort improves everyday lifestyles.
Customization
Creating a custom piece of furniture that makes a statement in your home is easier than ever. You can create furniture that is distinctly yours. Choose from a wide variety of fabrics, finishes, and frame styles.
Fabric Options
Your fabric choice will depend on how much activity your custom piece will endure. With over a thousand upholstery fabrics and leathers, we're sure to have a fabric design and texture that meets your theme, durability and comfort needs.
Loveseats
Elevate your space with a Flexsteel loveseat. Designs that stand the test of time, make it truly your with highly customizable fabric and accent pillow selections.
Shop Loveseats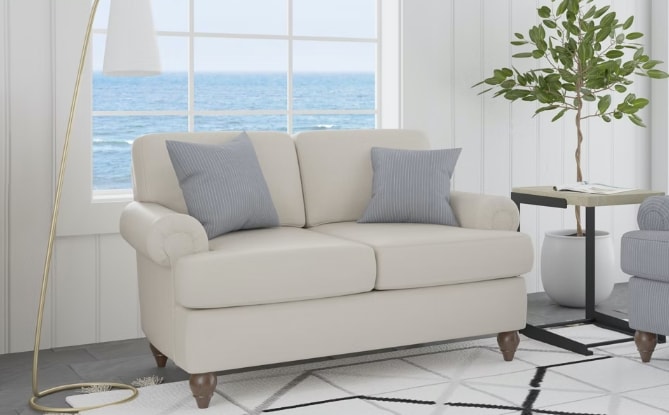 Sleepers
Wide cushions, sleek arms, and weltless cushions make flex steel sleepers a welcoming, timeless choice for your living space. A tubular steel mechanism combined with several mattress choices ensures you and your guests the perfect night's sleep.
Shop Loveseats
Sofas
Gather the family for an evening of relaxation and fun with the Flexsteel sofas. Choose from elegant yet durable leather or fabrics to create a sofa that complements your decor.
Shop Loveseats
Sectionals
Enjoy a cozy spot where the whole family can gather with a Flexsteel sectional. Multiple sectional components provide countless configurations to fit any room's shape and scale.
Shop Sectionals
Chairs
Every Flexsteel chair is carefully crafted with the details in mind. From clean lines and softly padded arms to the look of a family heirloom and the feel of brand-new upholstery, Flexsteel chairs are upholstered with you in mind.
Shop Chairs
Ottomans
Multi-purpose ottomans that perfectly compliment Flexsteel chairs and sofas. From a luxurious footrest to practical storage, the limit is the sky.
Shop Ottomans
Recliners
Flexsteel's Zero Gravity recline technology allows you to achieve the optimal neutral body position and enjoy the following ergonomic benefits.
Shop Recliners